Go!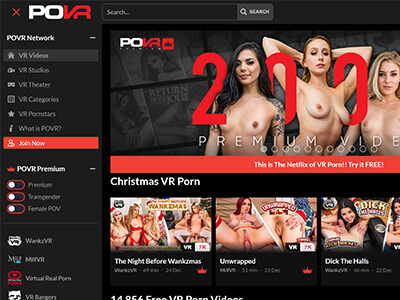 Site Details
Porn content: 2.800 VR videos.
Membership prices: FREE trial for 2 days, $24.95 per month, $179.88 for a year ($14.99/mo).
Estimated daily visitors: 15,000
Our Review
This is a new VR porn mega site with over 2,800 porn videos in its premium archive.
New VR Porn Site
This is a pretty brand new website so its popularity is not really that high. I'll check back to update the stats in a few months though, and I would expect the popularity to have risen substantially.
Considering how good the site looks and how much content they give away for free I see no reason why it shouldn't be one of the top 5 destinations for VR porn online.
Free Trial Membership
They even give away free trial memberships with unlimited streaming. I think this is just a launch campaign so expect it to discontinue soon (unless it is really successful and generates also a lot of paid memberships for them).
PayPal & Bitcoin
This site accepts both PayPal and Bitcoin, in addition to credit cards (obviously) and altcoins.
Pros & Cons
Pros: FREE Trial
Visit POVR